Custom video content has burst as smartphones have become increasingly powerful and affordable. Professional and aspiring videographers can now film, edit, and publish cinematographic creations with a powerful pocket film studio. As a result, video editing apps also grow in popularity, with users eager to clip, fine-tune, and polish their creations before uploading them.
How can you make a video on your smartphone easier?
A mobile video editing app. Why should you spend money on a dependable video editing app? Simply put, a mobile video editing app provides a variety of creative layers. These apps replace all single-track apps that allow you, as an entrepreneur, to make small clips from start to finish.
They can overlay an audio track, text, and even endless special effects! It makes no difference where you post your lovely video. You can easily create incredible videos that everyone will want to watch on Instagram or TikTok. Which mobile editing app to buy?
Best 5 Mobile Video Editing Software
In recent years, mobile video editing software has come a long way, with many options available for users of all levels of experience. Here are the five best mobile video editing apps for small business owners and startups to consider.
These software tools provide a robust and convenient way to create, edit, and share videos on the go, with features ranging from basic trimming and cutting tools to additional features such as color grading and special effects.
1. Adobe Premiere Video Clip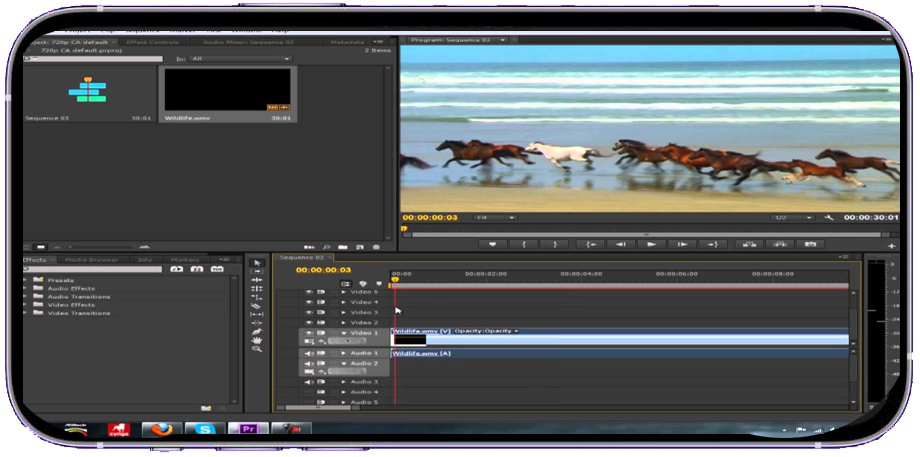 You can make a video with Adobe Premiere Clip by merging photos or videos and adding music and labels. It is relatively simple to make a video in this manner. There are few versions available, with only one label style and no transitions other than a fade between scenes. One aspect notes the final product in FullHD and without a watermark. You can also add your watermark to the video if you want.
2. Adobe Premiere Rush
Premiere Rush has all the features you'd expect from an Adobe product. With the app's built-in camera, you can capture professional videos and easily edit videos with drag-and-drop functionality.
You can sync your video to the beat of your soundtrack and add all the extra bits, such as titles and transitions. The app's ability to handle multiple video tracks is a particularly appealing feature. It allows you to create impressive effects like picture-in-picture and split views easily. With sharing in mind, Premiere Rush's design makes it simple to make your videos smaller for different social media platforms and instantly share them.
With the ability to resize to landscape, portrait, square, and 4:5, you'll be able to quickly and easily reuse your video to the specifications you involve and even share directly to Tiktok, Instagram, and Facebook with a single button.
3. iMovie-friendly video editor
Apple's free apps sprinkle throughout this list; they have a knack for creating brilliantly functional, user-friendly apps that dip with unique features. Their universal iMovie app performs all of the functions of a video editor.
What iMovie plays best at are simplicity and speed. It's not the most content option on this list, but if you're looking for a quick and easy way to make edits and create great-looking videos, it's certainly worth a look.
Particularly since you may not need to download anything: iMovie comes with all Mac New os devices and is compatible with more powerful video-editing software, such as Premiere Pro.
Please drop in your clips, trim them to size, and add built-in music, effects, and animatronic titles. Split-screen effects, ten high-fidelity filters, green-screen effects, and the ability to create Hollywood-style trailers are lovely extras. You can freely switch between your devices to make your final cut using AirDrop and iCloud Drive.
4. InShot Video Editor
InShot is a popular video editing app with millions of positive reviews on Google Play and the App Store. This app's techniques are simple yet powerful, allowing you to do everything you need: trim, cut, and add effects.
Inshot is a mobile app that lets users edit and improve their photos and videos. It includes tools like filters, text, stickers, and the ability to trim and split videos. Users can also use the app to add music to their videos and share them on social media. Download the Inshot app from the App Store or Google Play, open it, and edit your photos.
The app is designed with social media in mind, making it simple to resize videos for TikTok, Instagram, and other platforms. You can experiment with a variety of fun filters and backgrounds.
5. KineMaster- video editing app
The KineMaster video editing technology is easy for professionals but is simple enough for anyone to use. True, this app leans more toward the professional side of editing. It demonstrates by frame-by-frame discrete editing, pre-render instant previews and support for up to four audio tracks and unlimited audio clips.
KineMaster also supports up to two video layers that animate with preset effects or keyframe animation, chroma key compositing, precise color adjustment, and speed control ranging from 0.25x to 1.5x without audio pitch distortion.
Conclusion
Overall, your preferences and requirements determine the best mobile video editing software. In short, Adobe Premiere Rush, Kinemaster, iMovie, and FilmoraGo are all excellent choices, each with features and advantages. Whether you are a newbie or an expert, there is bound for a mobile video editing app that fulfills your requirements and assists you in creating high-quality videos.
There are more video editing apps for Android, iPhone, iPad, and desktop than you can tilt a clipboard at, so it's a trial and error to figure out which interface and features work best for you. This list gives you an idea of which app is best for you!