Are you looking for powerful software to create, modify and edit your PDF documents? Let yourself be guided through our top 10 of the best PDF editors.
The PDF file format, for Portable Document Format, is a popular file format for many users who want to maintain the layout and presentation of their document regardless of the hardware and software used to open it. There are multiple free viewers available for reading and commenting on PDF documents. But if you want to create a PDF document directly or edit an existing one, you will have to go through a PDF editor.
There are many software solutions to edit your PDF documents, here is our selection of the 10 best PDF editors on the market.
Wondershare PDFelement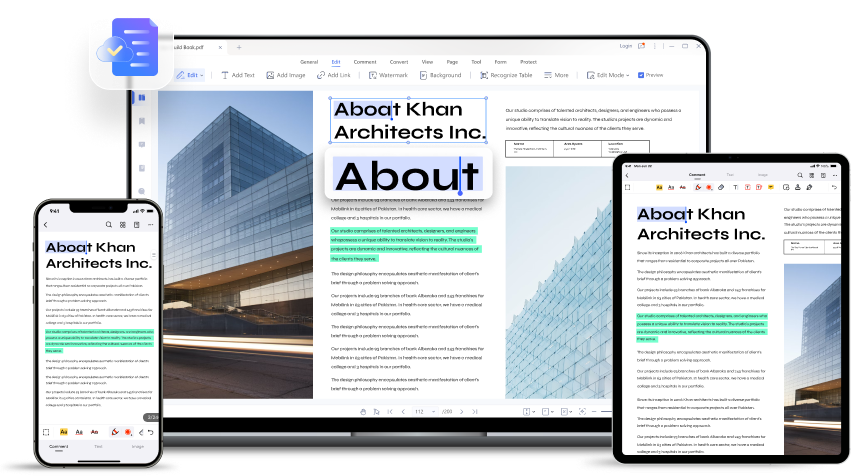 Developed by the Wondershare company, already known for its many reference software, Wondershare PDFelement is a versatile PDF file processing tool.
Pros: Available for Windows, Mac, android and iOS, this PDF file editor integrates many features to read, modify, create, annotate, comment and convert your PDF documents. It also stands out for its character recognition system OCR advanced, able to accurately transcribe the text contained in documents, in more than 23 languages. The price of subscriptions is affordable and suitable for individuals, schools or businesses, and provides excellent value for money. The interface is in French and easy to learn, accessible to novice users as well as to the most experienced.
PDFelement, therefore, allows you to create a document from a blank page or use the OCR character recognition system from scanned documents. This technology makes scanned documents searchable and editable and then exports them in PDF format. The PDF editor is also able to recognize editable forms, and change the size and font of the characters.
If you already have a digital file, it's easy with PDFelement to convert a document office automation(DOC, DOCX, XLS, XLSX, etc.) in PDF format, but also to convert a PDF document into a format compatible with office suite software Microsoft 365. You can edit your file in your favorite office tools, then convert them to PDF.
Another great feature of PDFelement is batch processing. On the home interface of PDFelement, users can quickly access a specific menu for batch processing. This feature allows you to perform data conversion or extraction operations on several documents simultaneously, thus optimizing the productivity of your teams with significant time savings.
Cons: PDFelement includes all the collaborative tools needed to work on documents as a team. On the other hand, you have to go through another cloud storage solution, called Wondershare Document Cloud to directly share PDF documents with your collaborators.
PDF Annotator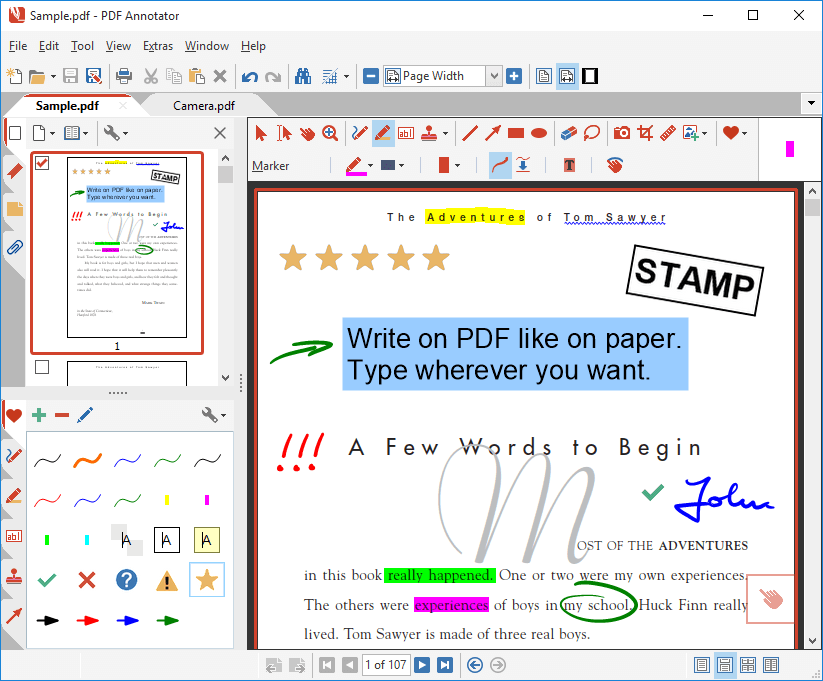 Very popular with teachers during the first confinement due to thepandemicofCOVID-19, PDF Annotator has many features for commenting and annotating scanned copies.
The advantages: For users of a Tablet Surface with a stylus, PDF Annotator has revolutionized document correction. This software is quite functional and fluid, with a user-friendly design with side tabs for several tool categories. Straight line highlighting, annotation bubbles, handwritten comments and page management of multiple documents, PDF Annotator has many qualities to test absolutely.
Cons: PDF Annotator is only available for Windows computers. There is currently no Mac OS X or smartphone version available. Collaborative tools and file sharing are almost non-existent.
EaseUS PDF Editor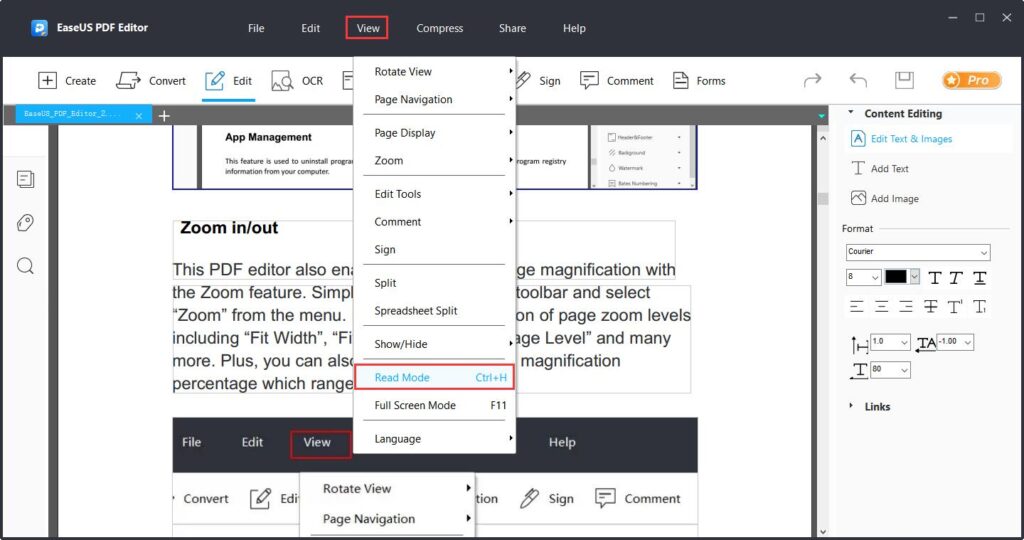 EaseUS PDF Editor is the newest product from EaseUS, which is already well-known for its file recovery and backup software solutions. It comes with all the essential tools for editing PDF files out of the box.
Pros: Capable of creating a blank PDF document or modifying an existing one, EaseUS PDF Editor also supports converting, compression, annotation and organization of your pages. The editing features are quite comprehensive, and the software also comes with security measures like watermarks, passwords, digital signatures, etc.
Disadvantages: We appreciate less the distribution of tools in the workspace. The interface is functional, but unfriendly. The user finds himself with menus and sub-menus at the top, on the right, on the left. Not always easy to find.
Adobe Acrobat Pro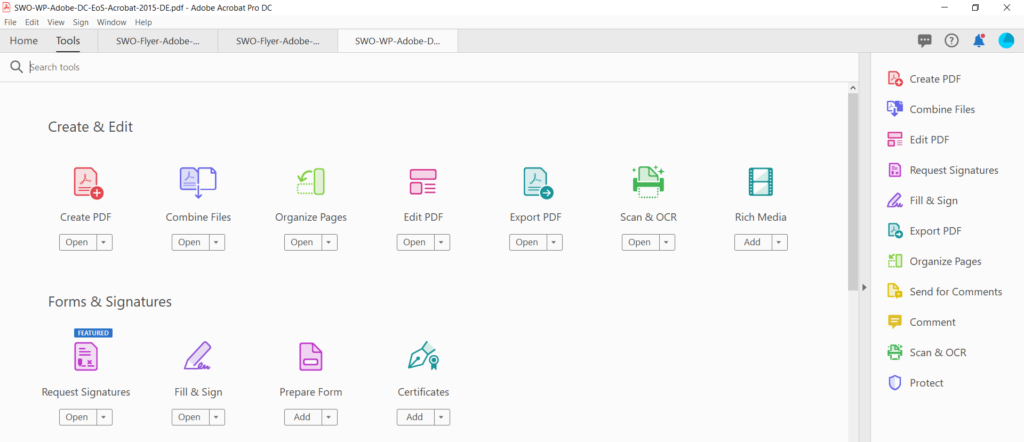 Creator of the PDF format, Adobe Acrobat Pro is the benchmark for PDF editors, accessible to both professionals and individuals.
The advantages: In addition to the creation and modification functionalities, the strong point of Adobe Acrobat Pro lies in its powerful conversion system. You can convert almost all types of files to PDF format and vice versa, it is possible to convert a PDF document to Word , PowerPoint, Excel, or JPG. The file review system is also well thought out, with document sharing directly in the cloud. Just send a link to the reviewer, who can then comment and annotate the document online, even if they don't have the software installed.
Disadvantages: The high price of subscriptions pushes users to turn to less expensive software. Adobe Acrobat Pro is only available for Windows and Mac computers. There is no application dedicated mobile.
PDFCreator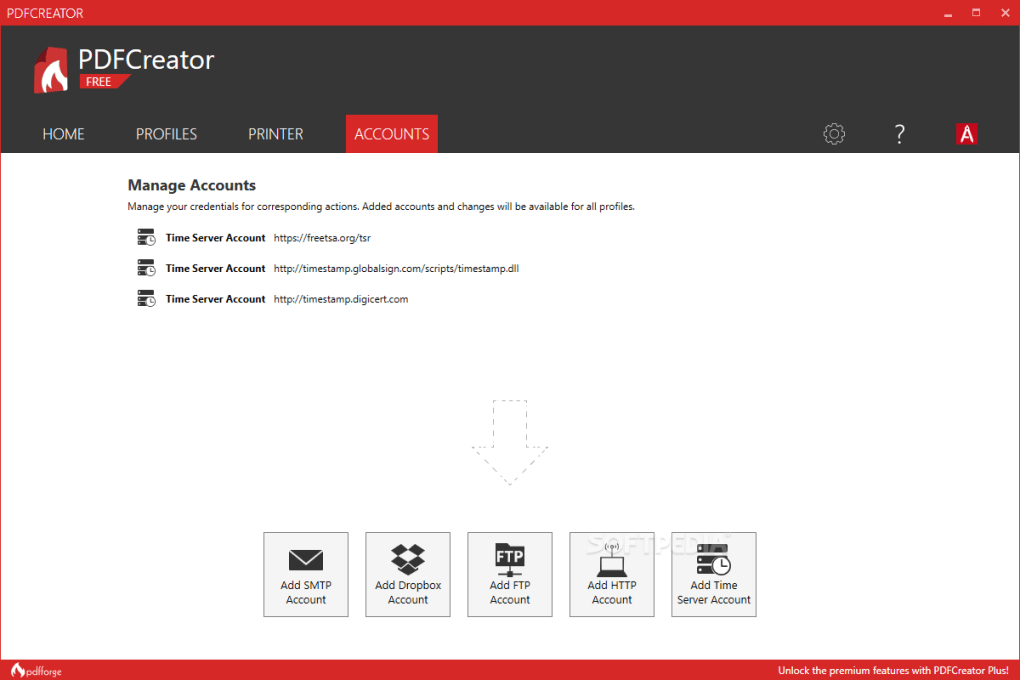 More like a virtual printer than a PDF editor, PDFCreator allows you to quickly convert any type of document into a PDF file.
Pros: For freeware, PDFCreator has advanced features like conversion, digital signature, password protection, merger of several documents or even the virtual printer.
Cons: The free version with advertising does not allow you to create or modify an existing document. It doesn't even have tools to comment on a PDF document. You have to go through the paid Pro version which is not available in a demo version.
Modifier PDF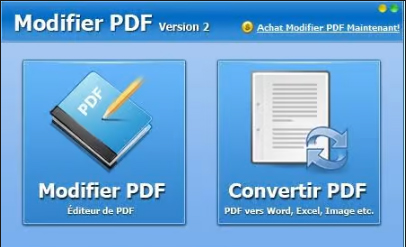 As its name suggests, this software allows you to edit PDF files. It also offers a conversion system in other formats.
The advantages: Modifier PDF has an interface in French and allows you to add text, an image and a few objects to your document. All your additions are listed which allows you to delete them individually. We appreciate a very simple little feature which consists of copying an element that you have just added to all the pages of your document. Very practical for repeated insertions.
The disadvantages: It does not allow you to create a PDF document from a blank page and its last update dates from 2019. The comment system as well as the interface are not of the first youth. Edit PDF does not support the tab system for opening multiple PDF documents and does not save your current document if you open another PDF file.
Foxit Reader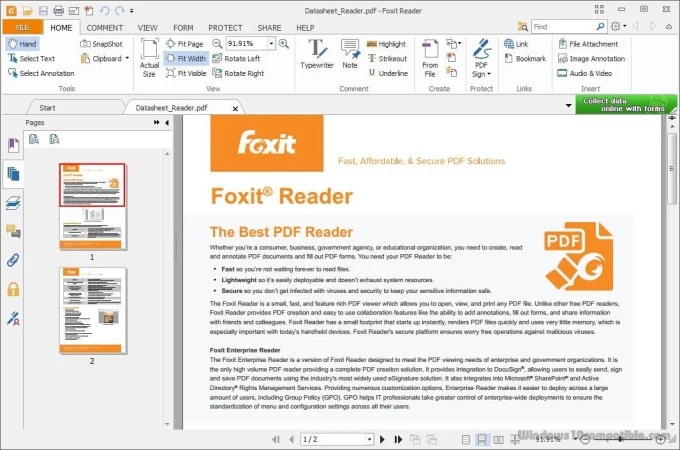 Foxit Reader is more of a competitor to Adobe's free viewer, Acrobat Reader. This software package has useful annotation tools in addition to reading tools.
The advantages: We appreciate its intuitive interface in French and the presentation of tools in the form of a ribbon menu. All essential features are present to create annotations, apply a digital signature, create editable forms or export form data.
Disadvantages: No conversion functionality or character recognition system of a scanned document is offered. It also does not include editing or PDF document creation tools.
PDF-XChange Editor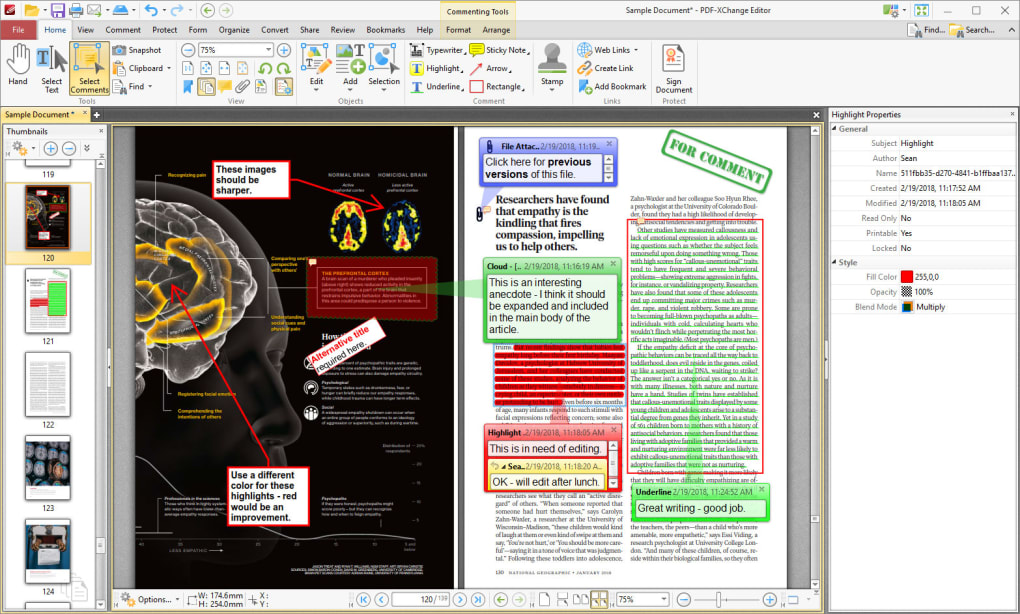 PDF-XChange Editor is an ultra-featured PDF editing software that rivals the most popular software solutions on the market.
The advantages: its comments and annotations system has already conquered many users with, in addition, an ergonomic interface facilitating access to the various tools. They will be able to comment, revise, convert, organize pages, add bookmarks, create editable forms and protect the document in a few clicks.
Cons: Editor, Editor Plus, Editor Pro… it's not easy to navigate the different editions with subscription. Moreover, it is only available for Windows computers.
PDF Studio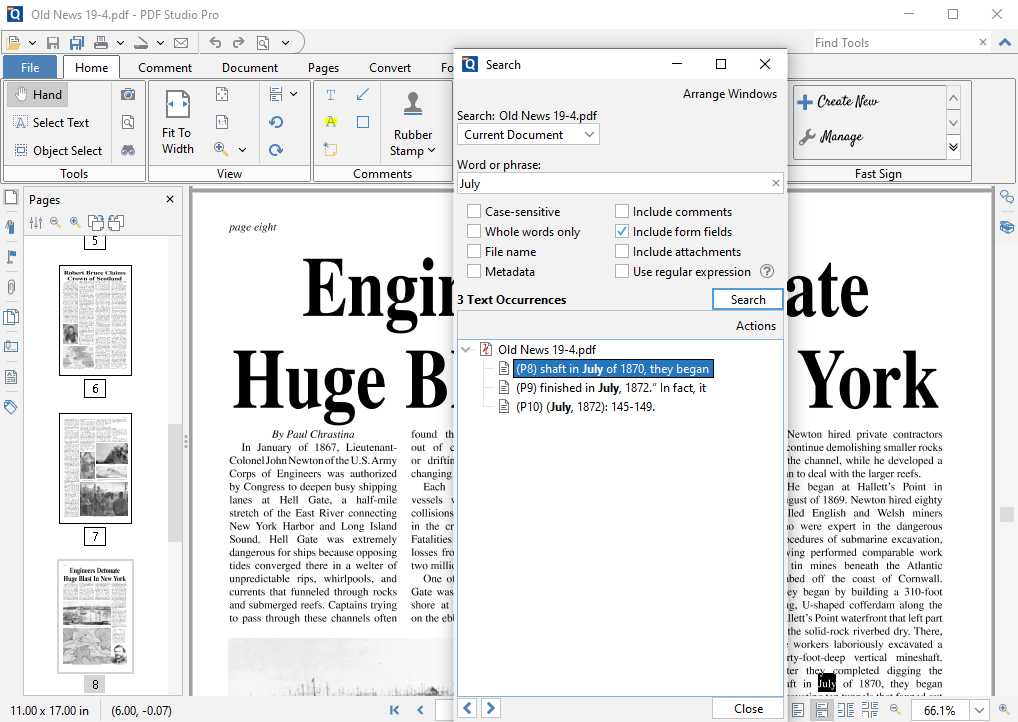 PDF Studio is versatile, cross-platform, in French and full of resources to modify, convert, read, edit, create, comment, secure, complete, manage and annotate your PDF documents.
Pros: PDF Studio is available for Windows, Mac, and Linux computers. Professional users will appreciate the comment and revision history, as well as the digital signature system with creation of an identifier associated with a password. It is also possible to integrate audio comments or attach a multimedia file.
The disadvantages: In view of the many features offered, an assistant would not have been too much to discover some nuggets such as the layer management tool, the anonymous comment system or the Batch tool which allows you to process several documents. simultaneously.
Nitro Pro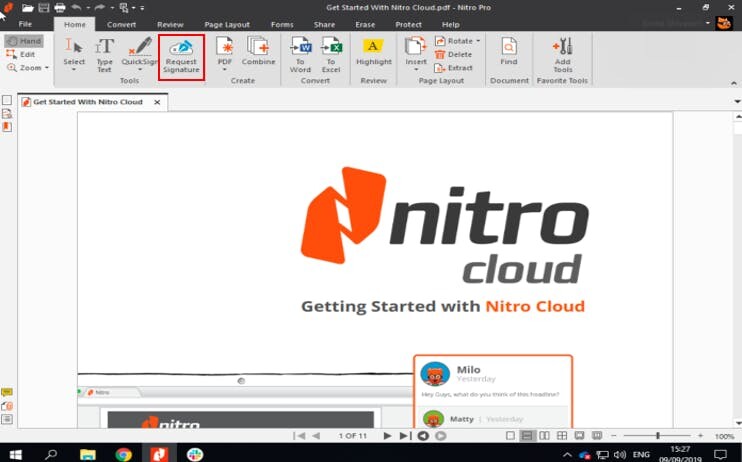 Nitro Pro, which was formerly known as Nitro PDF Reader, has been enhanced with a variety of tools for editing, converting, and processing PDF files.
Pros: Nitro Pro supports PDF creation from over 300 file formats, and allows reverse conversion between PDF document and Word or Excel document. The ribbon interface provides quick access to various features and data-conscious users privacy of their documents will appreciate the various security systems offered: password, certificate, encryption, digital ID, trusted contacts, edit permission, metadata removal, etc.
Cons: Available only for Windows, Nitro Pro is not geared enough towards collaborative work. Indeed, the sharing system is limited to sending the document by email and the revision system does not allow you to indicate who entered the comment or annotation.