Top 5 Online Office Applications: In the early days of Microsoft Office, the suite primarily consisted of Microsoft Word, MS Excel, and PowerPoint. As time passed, additional programs such as MS Access and Outlook were integrated into the suite. Notably, Microsoft has also ventured into Office Business Apps, catering to entrepreneurs. Microsoft Office comes pre-installed on devices running the Microsoft Operating System, including Mac computers, iOS devices, and Android devices. Additionally, Office Online, a web-based office tool, was introduced to facilitate seamless online business operations.
Among the diverse online Office applications, there are a select few that stand out due to their exceptional value. These applications have earned high regard within the online office space. If you're unfamiliar with Microsoft Office, let's shed some light on it before delving into the top online office applications.
What is Microsoft Office?
Microsoft Office is a comprehensive suite of essential programs, often referred to as the Office Suite, created by Microsoft. The primary goal was to simplify and streamline various office tasks. On August 1, 1988, at COMDEX in Las Vegas, United States, Microsoft Company Chairman Bill Gates unveiled Microsoft Office to the world. By that time, the number of MS Office users had already exceeded one billion globally and was steadily growing. In many instances, when you purchase a new laptop or desktop computer, Microsoft Office comes pre-installed.
Microsoft released the most recent desktop version of Office, Office 2016, for Windows and OS X on July 9 and September 22, 2015, respectively. With this foundation, let's explore the top 5 online office applications.
The Top 5 Online Office Applications
Now, let's dive into the top five online office applications you should consider:
1) Smartsheet
Smartsheet earns a top spot among online office applications. It serves as an exceptional spreadsheet solution tailored for small to medium-sized enterprises. Functioning as an online tool similar to spreadsheets, Smartsheet can be customized for project management and offers robust collaboration capabilities. Regarding pricing, you can subscribe to the program for $14 per month, with a 30-day free trial available to users.

Here are some notable features of Smartsheet:
Flexible spreadsheets.
Process automation.
Collaboration tools for content.
Integration with mobile apps.
Support for specific email domains.
Despite the $14 per month cost, the 30-day free trial makes it accessible. Smartsheet excels in collaborative features and offers high adaptability due to its customization options. However, it may not be the ideal choice for those seeking a simple office suite.
2) Utilize Google Docs
Google Docs stands as one of the top 5 online office applications, particularly catering to medium-sized and large companies seeking online office solutions.

Did you know that the most widely used free online office suite is Google Docs? You can access its suite of programs directly through your web browser, eliminating the need for downloads. Within Google Docs, you'll find applications such as Docs for word processing, Sheets for spreadsheets, Slides for presentations, and Forms for surveys. Furthermore, it offers an extensive array of features, including collaborative tools. Some of its remarkable features include:
A word processor with a wide range of functions akin to MS Word.
Highly versatile spreadsheet capabilities.
Exceptional presentation tools.
Multiple options for sharing and collaborative work.
Notably, Google Docs is the leading free online office suite for a reason, and it's available at no cost. While competitors strive to catch up with its excellent features and collaboration possibilities, Google Docs remains the go-to choice for many.
3) Embrace Apache OpenOffice
When searching for the best online office applications, Apache OpenOffice deserves your consideration. It caters to both small and large businesses, offering the ability to produce high-quality documents.

Did you know that Apache OpenOffice equips users with tools to create mathematical equations, polished text documents, multimedia presentations, and even 3D graphics? That's the level of excellence it brings to the table.
It encompasses most of the functionalities found in Microsoft Office and, impressively, can be downloaded for free. Key features of Apache OpenOffice include:
Document production capabilities.
Presentation tools.
Data export and import functionalities.
Database management.
In fact, OpenOffice is the premier desktop-based free alternative to MS Word. Astonishingly, it comes at no cost. While its interface may appear somewhat dated to some users, its open-source architecture grants users additional flexibility and options.
4) Explore Free Microsoft 365
Free Microsoft 365 is another remarkable online office application, tailor-made for small to medium-sized organizations seeking versatility in their office toolset.
What's truly astonishing is that Microsoft has made several Office 365 apps available for free downloads. This suite encompasses Microsoft Word, Excel, PowerPoint, Outlook, OneDrive, and Teams, offering both desktop and cloud-based applications.

Free Microsoft 365 combines the collaborative features found in web-based office applications with the robust functionality of desktop programs. Its feature set includes word processing, spreadsheet capabilities, presentation tools, assistance features, charting tools, intelligent art, shapes, online storage, and collaborative tools. The best part is that it's entirely free. Free Microsoft 365 offers more functionality compared to Office Online and maintains the familiar, user-friendly interface that many of us adore.
5) Office Online by Microsoft
Office Online, a part of the top 5 online office applications, is an ideal solution for smaller companies seeking browser-based online office tools.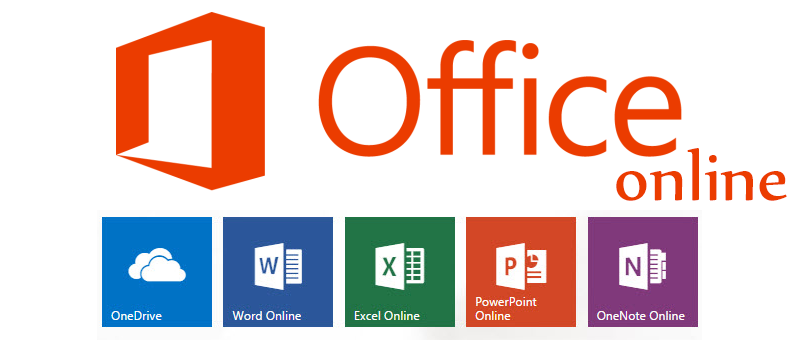 The free version of Microsoft Office Online serves as an excellent alternative to the premium version, providing users with word processing, spreadsheet, and presentation tools for editing and sharing files. It also includes MS Outlook for email and OneNote for digital note-taking. Users can access these tools directly through their web browsers, eliminating the need for downloads.
Here are some of its remarkable features:
Word processing and spreadsheet software.
Presentation software.
Browser-based accessibility.
Auto-correction functionality.
Compatibility with all file types associated with Microsoft Office.
Furthermore, it's important to note that Microsoft Office Online is completely free. While it includes many features present in its desktop counterparts, some functionalities, such as drawing support, are absent.
These are the top 5 online office applications at your disposal. However, conducting a thorough evaluation before making a choice is advisable.