Old photographs transport us to bygone eras, evoking nostalgia and simpler times. Yet, due to the technological limitations of the past, most of these cherished memories remain in black and white. Fortunately, the power of AI now allows us to infuse these monochromatic photos with vibrant colors. If you're keen on surprising your parents or grandparents by adding a touch of color to their cherished recollections, stay tuned. We'll introduce you to a variety of online tools designed to effortlessly colorize your black-and-white photos. In the meantime, you can also discover how to apply color-pop effects to photos on your Android device free of charge.
Best AI Tools for Adding Color to Old Black and White Photos
Numerous online tools utilize cutting-edge machine-learning algorithms to analyze and imbue your uploaded black-and-white images with captivating colors. Given the plethora of options available on the internet, it can be a tad bewildering to choose the right one. Hence, we've curated a list of eight AI tools that can help you colorize your black-and-white photos for free, though it's worth noting that these tools may come with certain limitations due to their free usage.
1. DeepAI Colorizer
Deep.AI offers a suite of AI-powered tools that inspire creative endeavors. Among its features is an Image Colorization API, capable of transforming your black-and-white photos into color within seconds. This API has been trained on both monochrome and colored images to deliver strikingly natural colors effortlessly.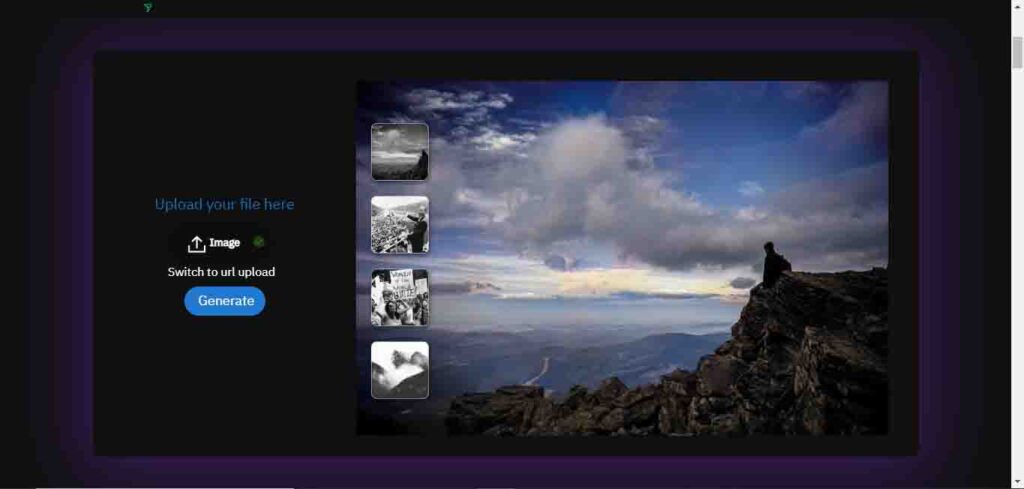 Pros:
Accurately identifies appropriate colors for various scenarios.
Swift image processing.
No need for user registration.
Offers image enhancement options for improved results
Cons:
Colorized images may resemble watercolor paintings.
Struggles with accurately detecting colors in clothing and darker areas.
2. Cutout.Pro
Cutout.Pro is an AI-driven visual design platform that harnesses AI's capabilities in the realms of editing and creative arts. It employs a deep learning algorithm to colorize vintage images, rendering them with a natural appearance. However, there's a catch: the free version restricts image downloads to a resolution of 500 x 500 pixels. To obtain full HD resolution images, you'll need to sign up with your email.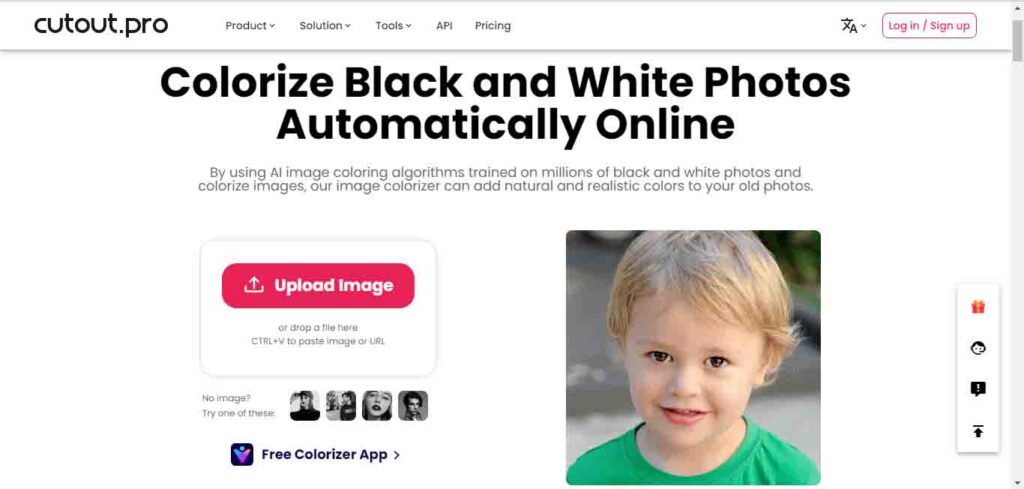 Pros:
Colorized images appear natural.
Proficient at recognizing and applying accurate colors to minor details.
Offers limited free usage without mandatory registration.
Cons:
Free version limits image download resolution to 500 x 500 pixels.
High-quality image saving requires email registration.
3. Colorize.cc
Colorize.cc is an online tool designed to infuse color into your old black-and-white images and videos. It also excels in restoring damaged vintage photos and reducing noise, all thanks to its machine learning technology. While it's free to use, the colorized images generated with this tool will bear a watermark. To access watermark-free, high-resolution versions, a paid account is necessary, which is a notable drawback.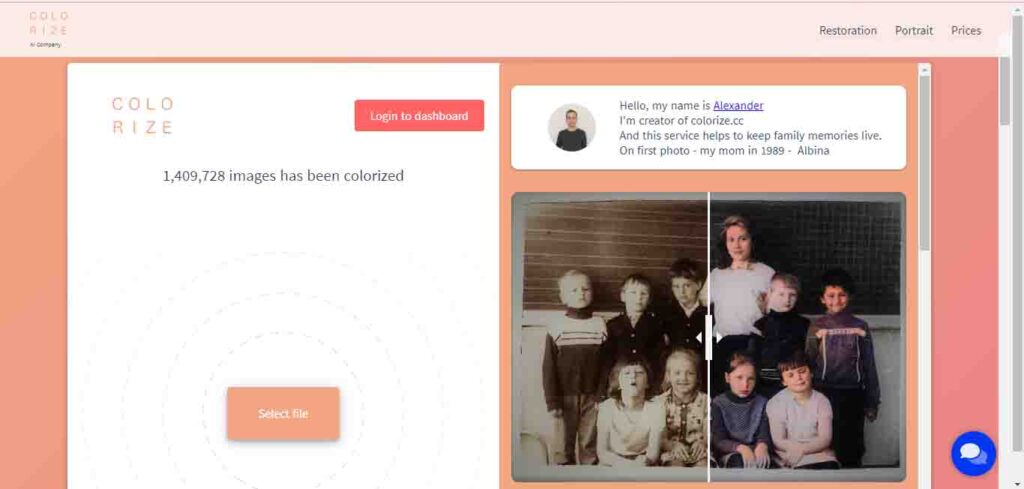 Pros:
Colorized images maintain a natural appearance in most cases.
Real-time comparison between the original and colorized versions.
Capable of restoring damaged photos.
User-friendly interface.
Cons:
Automatic addition of watermarks to colorized images in the free version.
Absence of watermark-free, lower-resolution image downloads in the free version.
4. PicWish
PicWish is an online image editing platform offering various AI-powered tools for enhancing your images. Among its features, you'll find a photo colorizer that can breathe life into your black-and-white photographs. It's completely free to use and doesn't require email sign-up. Additionally, you have the option to download their Windows app for bulk image colorization and advanced adjustments.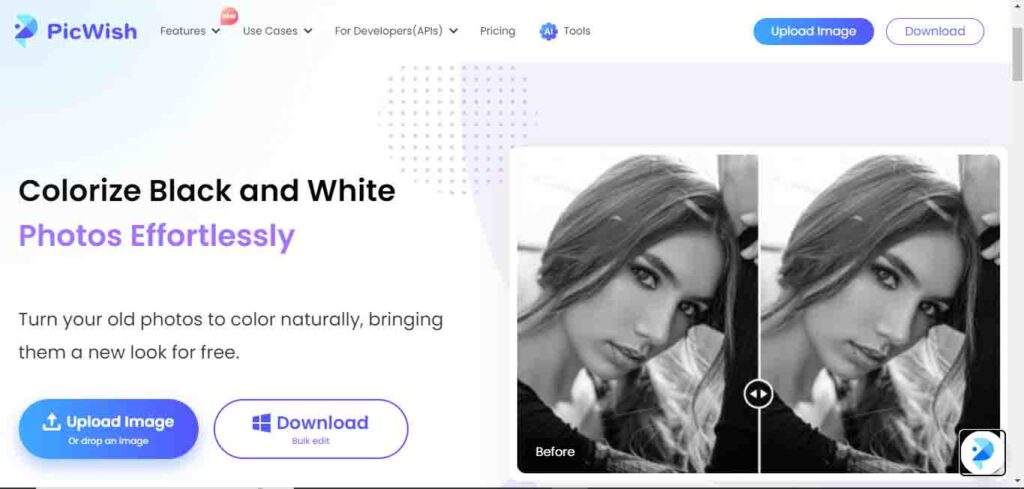 Pros:
Easily compare the before and after appearance of your images.
Swift processing and color application.
Pro options available for further image customization.
Download colorized images free of watermarks.
Cons:
Colorized photos may appear somewhat faded.
Pro features are limited to the Windows app.
5. Palette.FM
Palette.FM stands out as a widely-used AI color enhancement tool for enhancing your black-and-white images. What sets it apart from other tools is its intelligent use of image filters, allowing you to choose from a variety of options to impart a distinct look to your photos. Notably, you have the flexibility to modify the image prompt, a unique feature in this tool.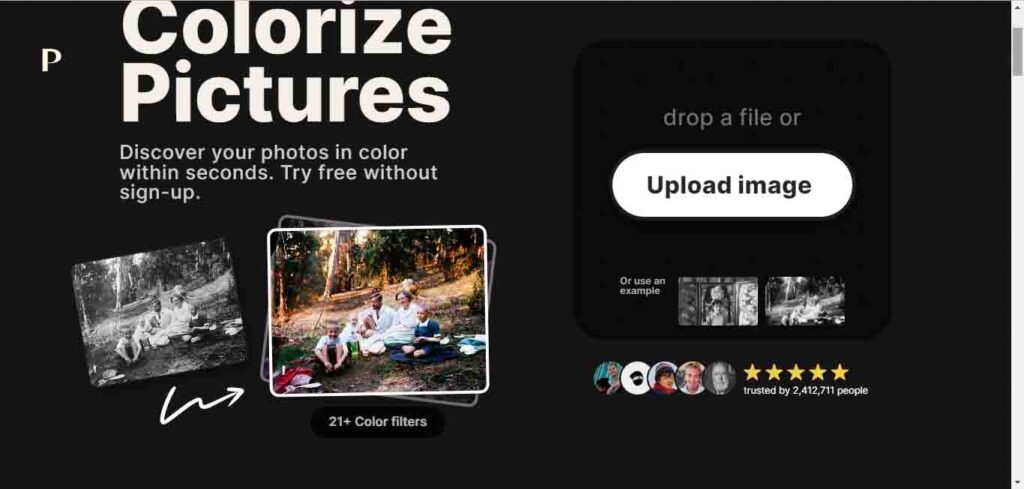 Pros:
Revives black-and-white photos with vibrant colors.
Offers a selection of intelligent filters to enhance your images.
Customizable color adjustments by modifying the prompt.
Provides free downloads of edited images.
Cons:
Requires registration or a Pro plan for HD quality image downloads.
Some colored photos may exhibit minor artifacts.
6. Hotpot.ai
Hotpot.ai is a straightforward yet effective online tool that can effortlessly transform your black-and-white photos into color with a single click. It simplifies the process by only requiring you to upload your image for conversion. While you can choose between different colorization factors, it's important to note that this choice can impact the resulting image quality. For more advanced editing, you'll need to purchase credits.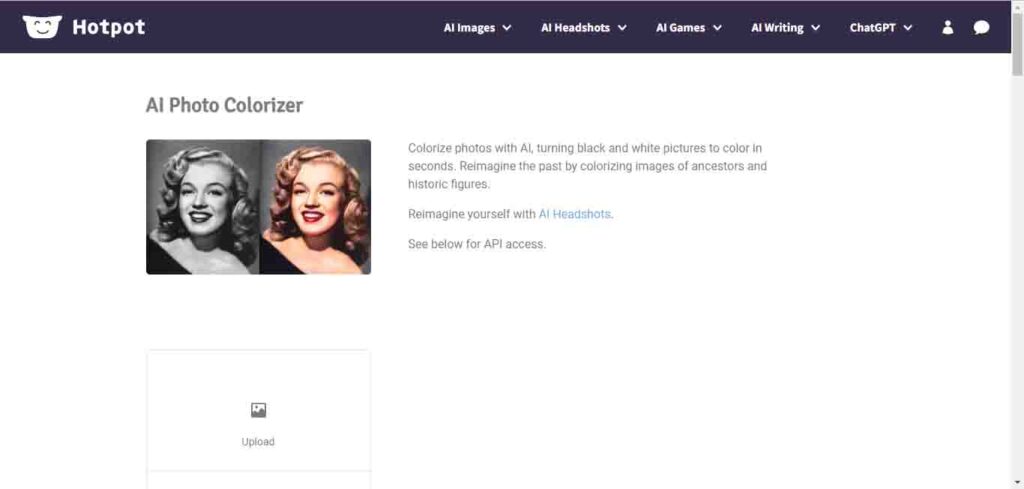 Pros:
No limits on the number of uploads.
Allows downloads of colored images without requiring registration.
Generates decent and mostly accurate results.
Offers post-colorization image editing and resizing tools.
Cons:
Credits purchase is necessary for image editing.
Some results may appear slightly blurry.
7. Media.io
Media.io's AI photo colorizer is a handy tool for injecting a burst of color into your cherished old memories captured in black-and-white. This AI-powered tool effortlessly transforms monochromatic photos into vibrant, colored ones. The process is as simple as uploading your image, and the tool takes care of the rest. However, note that you'll need to create or sign in with a Wondershare account to download images from this tool.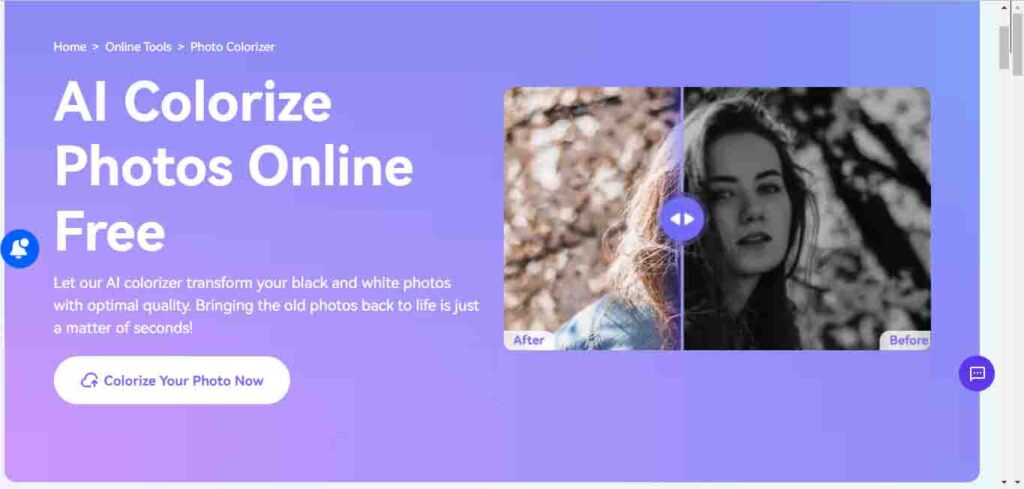 Pros:
Colored images maintain a clean and consistent appearance.
Facilitates before-and-after comparisons of your photos.
Processes images swiftly.
Cons:
Requires a Wondershare account for image downloads.
Downloaded images bear a watermark in the free version.
8. Fotor
Fotor is the final addition to our list of online photo editing tools. Similar to the previous options, this tool employs machine learning to restore and add lifelike colors to old photos. It offers versatility by allowing you to edit various aspects of your image and choose the desired quality and format before downloading. However, it's worth noting that downloading images without the Pro version is not possible.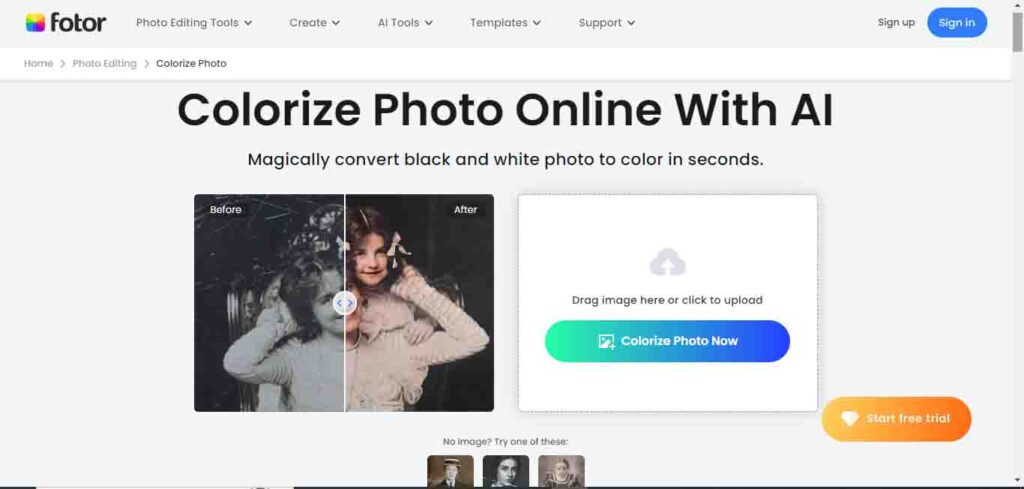 Pros:
Enhances photos with natural and realistic colors, preserving fine details.
Enables side-by-side comparisons of the original and colorized images.
Provides options to select from different image formats.
Allows downloads in various image qualities.
Cons:
The restored colors may appear slightly muted.
Image downloads require the purchase of the Pro version.