Today I decided topic Top 5 Best Data Recovery Software in 2022. So that i wanted to compile all of the best file recovery software. I have ever used or come across into one place in one article just for you guys. So that's exactly what i'm going to be doing today. We're going over the top five file recovery software solutions. So that you can use to start getting your files back right now let's not waste any more time let's get started.
5. DM Disk Editor and Data Recovery Software
Five number we have a piece of software called DM disk editor. So this one is definitely falling into the more advanced category as well and really fits as a combination of Rstudio and test disk. If you have a more advanced file recovery project. So that's dealing with bad sectors broken file systems and other forms of corruption of that sort then this software is definitely up your alley.
However what it does also have is a very steep learning curve. Even i someone who has a lot of experience with file recovery and utility software had a pretty hard time trying to navigate this for the first time. So unless you're willing to dedicate a lot of time to learning exactly. how the software works or if you have a lot of experience in this field already. you may need to use some judgment here. However DMDE is not just a tool for advanced file recovery but for disk partition and file management as well and so if that's you definitely check out DM disk editor.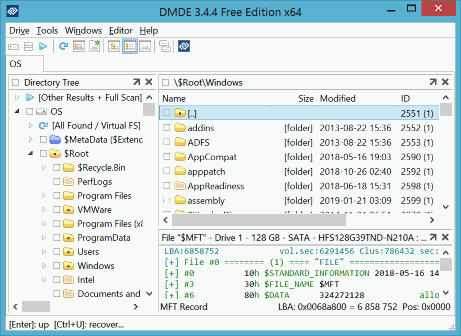 4. R-Studio Data Recovery
At number four we have a piece of software called R-Studio and right off the bat i would say this is definitely more for the advanced and professional crowd but with that being said R-Studio is very competent and very feature packed. Fixing broken file, systems recovering rate arrays and advanced recovery algorithms. Make this software a serious competitor and a powerhouse of software. When it comes to usability however things are rather limited.
In that the UI is very basic and a little bit difficult to navigate which again lends itself to the more advanced pc user crowd. One of the benefits to the software though is actually the support both on the website and on their form. It's both plentiful and punctual which can make it honestly a lot easier to use and navigate for those that aren't so familiar. So especially if you are experienced with data recovery and just general utility software. in general you should definitely give Rstudio a look.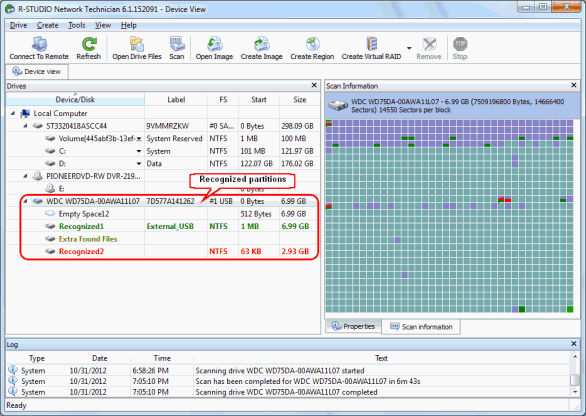 3. EaseUS Data Recovery
Our third-placed data recovery software is EaseUS Data Recovery. EaseUS calls itself "the wizard" and to be honest, we think this software is pretty magical too. The software is so simple to use that even a child could find its way around the interface. From virus-ruined files to accidentally deleted partitions, EaseUS can resurrect literally anything from the dead. This program also comes with a load of other amazing features too. For starters, it comes with a pre-recovery preview. This also allows you to preview lost files before they're recovered.
The developers boast that the software can help you recover data lost from a system crash, power failure, accidental deletion, or hard-drive failure. And it can even recover RAW file systems that the operating system of your computer can't recognize. But the software is not without some downsides too. Scanning takes quite a long time, but we believe that may be due to the deep-scanning techniques the program utilizes.
That being said, the tool allows you to save a scan session instead of performing a new scan each time. While we don't know if this was included because of the slow scan time, it's a welcome addition, allowing you to load up the earlier scan when re-launching the software. The developers also understand that you may need to interrupt the process, so they've included stop and pause buttons too. All in all, EaseUS is one of the most affordable data recovery solutions you can find at the moment.
There are more advanced and cheaper solutions out there, for sure, but we love this one for its perfect balance between functionality and affordability. when you consider the great performance of the app, its user-friendly interface, and the responsive customer support, we think it's a pretty good deal. If you think EaseUS is the right data recovery software for you – see the official link we have shared down below for the best price.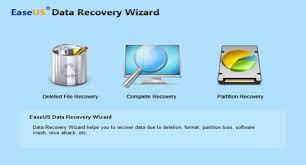 2. Disk Drill
Disk Drill has been around for a long time, so it's not a surprise that it's the data recovery software of choice for casual and professional users alike. It offers a sophisticated interface and exceptional data-recovery results. This software can recover a vast assortment of file formats, including PSD, GIF, JP2, JPEG, MP3, MP4, FLV, and AVI. However, probably its most significant feature is the way it allows you to recover files from a range of file systems and storage devices using its cutting-edge scanning algorithms.
The entire process is also really straightforward, whether you're an expert or it's your first time using this kind of software. You can find files by their names and even preview them before recovery. There's also a pause option, so if you need to shut down your PC while it's at work, there won't be any problems. The scan time is usually determined by various factors, such as the disk size, condition, connection type, and the kind of recovery selected.
However, Disk Drill scans very quickly under normal conditions. Whether you're using the free or the paid version, Disk Drill is generally easy to use. It's so simple that even inexperienced users should easily figure out what to do. However, while the program is generally easy to use, we can't rule out the chances of running into a problem. You can easily reach customer support through a web form. And of course, they're also available on social media platforms like Facebook, Twitter, and LinkedIn. The free version has a cap of just 500 MB,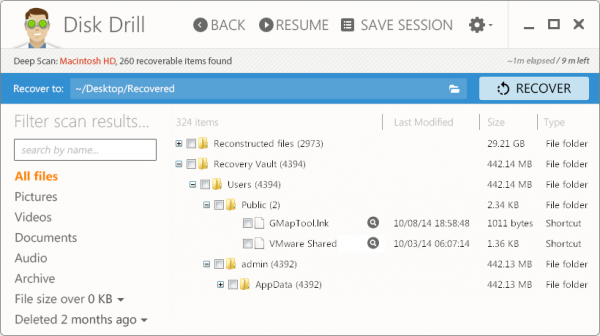 1. Stellar Data Recovery
With its massive file-type library, deep-scan abilities, and highly customizable searches, Stellar Data Recovery is the best data recovery tool we have seen. Being the number one data recovery solution globally, you'd expect it to come with powerful features to enhance your experience, and it doesn't disappoint. To begin with, the solution allows you to retrieve every file format, including custom formats. You can also recover data from a PC's hard drive, flash drive, memory card, external drive, and optical media like DVDs and CDs. It's also worth noting that the tool works with both encrypted and non-bootable drives which are pretty awesome.
Apart from that, it also supports virtual drive and RAID recovery, and even corrupted video and photo files can be recovered too. The program also allows you to choose what type of files you want to retrieve, which can be helpful if you're looking for a certain file type. On top of that, it lets you choose what location and drive you would like to search, which further streamlines the whole recovery process. There are also many advanced tweakable options to improve performance too.
For instance, you can state the exact file extensions you are looking for. If necessary, you can add new types of files and activate safe mode if you have security concerns. It's also worth adding that Stellar Data Recovery scans very quickly. While a host of factors may impact this, the program itself is designed to perform scans in the shortest time possible. What's more, the user interface is also very refined, making the tool easy to use for beginners and experts alike.
The free version of this software offers up to 1GB of data recovery for both Mac and Windows users, allowing you to recover lost, deleted, and unavailable files from a hard drive, USB Drive, or any other storage device. As you'd expect, the free plan lacks advanced tools and its 1GB data limit and 25MB per file cap means it's only suitable for smaller files.